NEW BOOK OUT NOW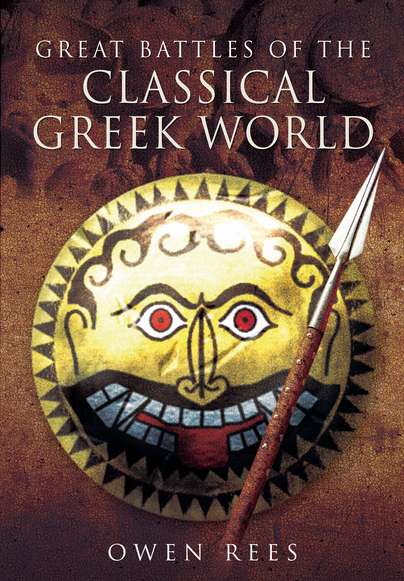 This book presents a selection of eighteen land battles and sieges that span the Classical Greek period, from the Persian invasions to the decline of the traditional hoplite heavy infantry before its ultimate demise at the hands of the Macedonians. Whilst focusing on the golden age of the hoplite phalanx, Great Battles also offers a wider perspective on classical battle, including mercenary armies and the rise of light infantry.
A strong emphasis is placed on the variety of tactical developments throughout the period. Each battle is set in context. The background, battlefield, and opposing forces are discussed, before giving a narrative and analysis of the fighting. The discussion of each battle also deals with the aftermath of the engagements and the strategic implications for both the victors and the defeated. The text is supported by dozens of tactical diagrams that show the deployment of troops and the various phases of each battle. Written in an accessible, narrative tone, a key feature of the book is the author's choice of battles, which collectively challenge popularly held beliefs such as the invincibility of the Spartans and the ineptitude of the Greeks at sieges.
The book is now available to order from Pen & Sword.
Recently Published Articles:
"The Heart of Achilles: Brasidas and his Northern Campaign", Ancient Warfare Magazine, (X-1)
"The Lost Nostoi: Unspoken homecomings in ancient Greece", Ancient Warfare Magazine, (IX-6)
"Ancient PTSD Debate", Ancient Warfare Magazine, (IX-4) – co-written with Dr. Jason Crowley.
"Mapping it out: The world view of Herodotus", Ancient History Magazine, (I-1)
"Socrates: the warrior philosopher", My History Digest, 04/2015
"Warrior Women of the Ancient and Medieval World", My History Digest, 03/2015

"Let Slip the Dogs of War", Ancient Warfare Magazine, (VIII.5)
"The Origins of the Amazons: Myth vs History", My History Digest, 09/2014
"Clearchus the war-lover – Brutality and Discipline", Ancient Warfare Magazine, (VII.5), Clearchus – AW version
*For a full list of publications see here*
Sample pieces – copyright of Karwansaray Publishers, courtesy of Ancient Warfare Magazine, Medieval Warfare Magazine, and Sehepunkte.